Perfect for holding condiments in kitchens or in self-serve areas
Clear plastic increases visibility
Open tip eliminates the need to cut the top
Tight, no-leak cap prevents spills and messes
Easy-to-squeeze construction allows for fast application of sauces
Perfect for slow-flowing sauces such as mayonnaise, ketchup, and honey, the bottom valve distributes condiments quickly and fluidly with a simple squeeze.
This bottle with two openings WHICH you can take the top off and the bottom off for easy cleaning and filling and the top has a nice airtight lid"
• Available for size 12oz /16oz / 20oz / 24oz / 32oz
• Cap color : White / Yellow / Red for easily recognition
• First in, first out design
• InvertaTop Dualway design
• Features a lip around the top dispensing valve
• Made of clear food grade pp plastic for easy product identification
• Easy to fill, clean, and use
• Great for sandwich shops, delis, and cafes
Description:
Multi-Use
A clear design makes it easy to keep track of this squeeze bottle's contents at a glance so that you can tell what is inside and how much is left. It's great for storing anything from salad dressings and olive oil to ketchup and barbecue sauces. This bottle can even be used in the back of the house, giving you a quick and easy way to add oil to frying pans for stir fry! Additionally, its wide-mouth design makes it easier to fill and clean than other squeeze bottles and you can add labels to the top cap for easy identification.
16 oz. Capacity
Capable of holding up to 16 oz. at a time, this squeeze bottle will accommodate ample quantities of your most commonly used condiments so that you refill the bottle less often.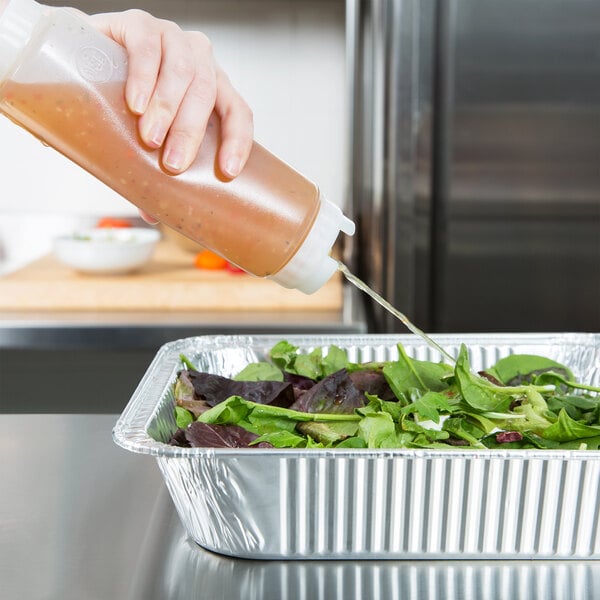 Easy-to-Use Squeeze Design
This bottle's squeeze design makes it much easier to dispense condiments when compared to traditional glass condiment jars, making it simple for customers to use just the right amount.
Overall Dimensions:
Diameter:2 7/16 Inches / 6.2CM

Height:8 5/8 Inches / 8.6CM

Capacity:16 oz.